Unpacking Vermeer's Allegory of the Catholic Faith
Francesca Michel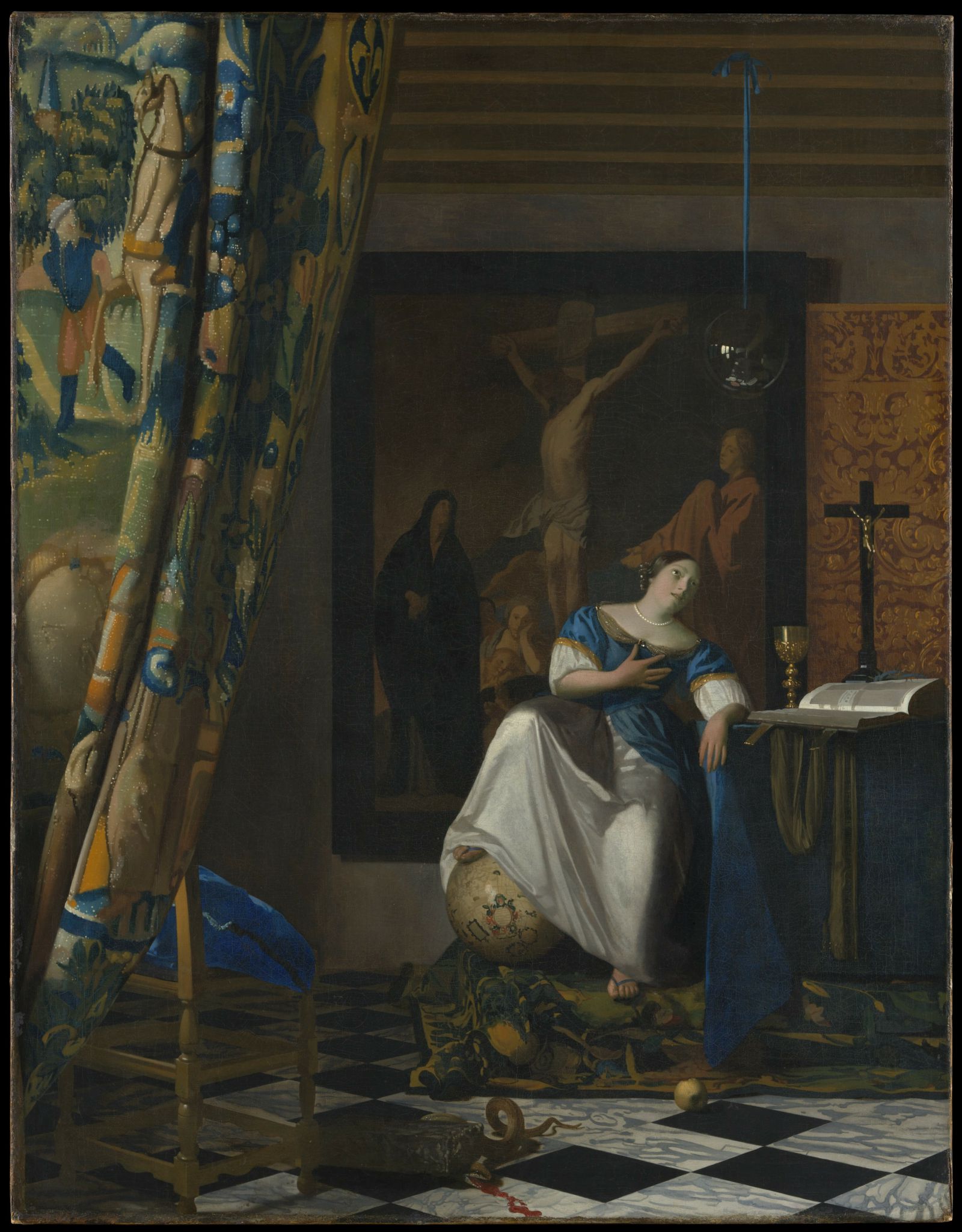 Thank you to Jack S. Berner for reading this essay, and to J. Vanessa Lyon for introducing me to Vermeer.
Allegory of the Catholic Faith was painted by Johannes Vermeer between 1670 and 1672. Among five paintings of his at the Metropolitan Museum of Art, Allegory of Faith is considered by many to be a striking outlier to Vermeer's oeuvre1. While most of his body of work depicts domestic scenes from daily life in the Netherlands during the 17th century, Allegory of Faith is a far more timeless tale, one of triumph over evil through Holy Communion. It is impossible to view Allegory without beginning to decode its biblical and iconographic references the way so many scholars often do. However, I would instead like to propose that by looking to the way Vermeer grounds even his most allegorical world in a contemporary Dutch scene, we can begin to unpack, not just an iconographically overwhelming story about Catholic faith, but ultimately a historically relevant construction of Dutch political subjecthood.
When the painting was made, Protestantism was the only sanctioned religion in the Dutch Republic2. Catholic worship was confined to private spaces and clandestine masses, and Allegory of Faith is not only thought to have been commissioned for such gatherings, but itself depicts a domestic space as a venue for Catholic ritual. From the large Jacob Jordaens painting of Christ's crucifixion, reproduced in detail on the back wall of the interior, to the curtain pulled open to reveal the room in which the painting's subject sits, so many of the materials surrounding Vermeer's figure, whom we will refer to as Faith, are both contemporary decorative objects and also tools for practicing Catholicism.3
It is Faith's material surroundings, especially the altar for Eucharist on which she rests her arm, that Vermeer positions as her point of access to Christ's spiritual presence within the scene. On the altar a chalice for sacramental wine, an open liturgical text, a crucifix, and Jesus's thorns are all presently in use. The thorns are only partially visible behind the liturgical book, and Vermeer paints them blue, giving them an otherworldly appearance. Not only do they reference Christ's mortality, in being a relic of his Crucifixion, but their ghostly hue creates a sense that he is present in the room. The thorns are both physical residue from past violence incurred on Christ's body and visible proof of his immaterial presence; a symbol of his mortality and his immortality all at once.
It is through a multiplicity of such references to Christ's presence in the room that Vermeer creates tension between the material and immaterial elements of his allegory. This same tension gives structure to the contrast Vermeer creates between the scene at Faith's feet with the serpent of evil and the glass ornament hanging above, on which Faith's gaze is fixed. Though historically victorious in the Garden of Eden, here Vermeer's serpent of evil lies crushed by a stone slab. The slab is thought by many to depict the 'cornerstone' of the Catholic church, or Christ himself, defeating the snake.4 The serpent's coiled, active posture, the fresh blood pouring from his mouth, and his wide open eyes, all accentuate the corporeality of his form. The freshness of his wounds exposes his fallibility and creates a sense of immediacy, as though the stone has fallen just before this very moment captured by Vermeer.
Despite the shocking scene at her feet, Vermeer directs Faith's eyes toward the ornament. Glistening like a bubble, or a drop of water, the ornament contrasts the serpent in its celestial quality. It is as though Faith's reverent Mass has elevated her gaze away from the blood and gore of this earth toward a far more allusive representation of spirituality. Her worship has not only killed the serpent at her feet, but it has brought her to a state of communion visible only in glints, only through references and allusions. In this regard, Allegory of Faith gives form, not only to a material world of earthly faith, but also to the spiritual realm beyond it.
It is the tension between an earthly, corporeal, materially dense scene, and the spiritual realm beyond it, that is ultimately the axis of logic around which Vermeer's allegory rotates. By unpacking this logic, we can begin to trace not only a story of his sitter's relationship with God, but more importantly a Catholic logic of representation. Most elucidating of this point, is a close look at the globe on which Faith rests her foot. Geometrically alliterative of the ornament yet earthly like the snake, we know Vermeer modelled the globe on a personal possession of his, a 2nd edition Jodocus Hondius terrestrial globe.5
Faith's pose, with her foot atop the globe, is suggestive of Catholic world dominance, but, more specifically, Vermeer's inclusion of the Hondius globe within the context of his allegory creates a reference to Dutch political power, to the Dutch state's fluctuating borders and colonial territories.6 The globe is identifiable because of its green and orange cartouche, which honors Prince William of Orange, who was a celebrated leader in the Dutch Republic's recent fight for independence from Catholic, Habsburg Spain. Vermeer's reproduction of the cartouche not only celebrates this domestic victory and accentuates the inextricability of nationality and religion in 17th century Europe, but it also celebrates contemporary Dutch dominance in cartography, of which Hondius himself was a key contributor.7
Throughout the landmasses and bodies of water painted onto Hondius's globe itself are several cartouches and biblical illustrations.8 The globe is in many ways a record of Dutch political territories and trade posts that contains its own logic of Christian representation in tension with nationality. Among the several scenes and creatures drawn into the waters of Hondius's globe is an illustration of sea monster, Leviathan. Leviathan can be found on the coast near what is present day Peru enveloping a large ship in an aquatic eruption from his blowhole. Though Hondius' illustration of Leviathan is not actually visible within Allegory of Faith, Vermeer's serpent from the Garden of Eden both visually and thematically references this monster. Both mythical, Christian representations of evil, Vermeer's and Hondius' serpents are depicted with their heads in profile, mouths open, and tails spiraling to the back of the picture plane. However, while Vermeer's serpent lies defeated, Leviathan, mightier and more monstrous, is shown conquering the sailors who have encountered him.
Leviathan signifies an outside to Christianity, or to Faith, in that his purpose on the map is to literally demarcate alien territory outside the bounds of nationally practiced Christianity. Yet, such alien territory was also a source of Dutch wealth precisely through colonial trade posts set up in these regions. In this regard Leviathan signifies both an interruption of Christian supremacy and its source of wealth. In visually and thematically referencing Hondius's Leviathan, Vermeer's serpent also references the perils of such aquatic navigation and European colonialism, but his demise positions faith in Catholicism as an answer to those perils, a violent arrestment of them. Much like the alternate spiritual realm embodied by his allegory yet never seen, Vermeer portrays colonialism itself as a distant, unseen yet omnipresent force, especially in his reference to Leviathan with the serpent of evil.
In tracing the contours of Vermeer's allegorical lexicon, his use of biblical symbolism and the way he situates Faith within her domestic interior, one can begin to view his painting as an expression of Catholic materialism and transcendence, but also as an expression of Catholicism in tension with nationality. Especially in its references to and incorporation of Dutch cartography and colonialism, Allegory of the Catholic Faith expresses the complex logic, not just of an embodiment of Catholic faith, but of the Dutch political subject as it was constituted by colonialism in the 17th century. It is the relationship between the two which makes his allegory both familiar and difficult to deconstruct today.
Works Cited
Alpers, Svetlana. 1983. The Art of Describing: Dutch Art in the Seventeenth Century. Chicago: University of Chicago Press.
Arasse, Daniel. 1994. Vermeer, Faith in Painting. Princeton, N.J.: Princeton University Press.
Blakely, Allison. c1993. Blacks in the Dutch World : The Evolution of Racial Imagery in a Modern Society. Bloomington: Indiana University Press.
Filipczak, Zirka Z. 2006. "Vermeer, Elusiveness, and Visual Theory." Simiolus: Netherlands Quarterly for the History of Art 32 (4): 259–72.
Franits, Wayne E. 2001. The Cambridge Companion to Vermeer. Cambridge; New York: Cambridge University Press.
Hertel, Christiane. 1996. Vermeer: Reception and Interpretation. Cambridge; New York: Cambridge University Press.
Hoopes, Thomas T. 1946. "An Early Terrestrial Globe." Bulletin of the City Art Museum of St. Louis 31 (4): 1–8.
Library Of Congress. n.d. Sea Monsters on Medieval & Renaissance Maps. Accessed March 24, 2019. https://www.youtube.com/watch?v=iUvMr86UZq4.
Liedtke, Walter A., Michiel Plomp, Axel Ruger, Metropolitan Museum of Art, and National Gallery. 2001. Vermeer and the Delft School. New York; New Haven; Metropolitan Museum of Art: Yale University Press.
Papapetros, Spyros. 2003. "The Eternal Seesaw: Oscillations in Warburg's Revival (Book Review)." Oxford Art Journal 26 (2): 169–76.
———. 2012. On the Animation of the Inorganic: Art, Architecture, and the Extension of Life. Chicago: University of Chicago Press.
Prak, Maarten Roy. 2005. The Dutch Republic in the Seventeenth Century : The Golden Age. New York: Cambridge University Press.
Ripa, Cesare, and George Richardson. 1976. Iconology: Or, A Collection of Emblematical Figures: Containing Four Hundred and Twenty-Four Remarkable Subjects, Moral and Instructive, in Which Are Displayed the Beauty of Virtue and Deformity of Vice. London: Printed by G. Scott.
Schama, Simon. 1988. The Embarrassment of Riches : An Interpretation of Dutch Culture in the Golden Age. Berkeley: Distributed by Random House.
Snow, Edward, and Johannes Vermeer. 1994. A Study of Vermeer. Berkeley: University of California Press.
Stallybrass, Peter. 1998. "Marx's Coat." In Border Fetishisms: Material Objects in Unstable Spaces, 183–208. New York, NY: Routledge.
The Metropolitan Museum of Art. n.d. "Johannes Vermeer | Allegory of the Catholic Faith | The Met." The Metropolitan Museum of Art. Accessed September 19, 2020. https://www.metmuseum.org/art/collection/search/437877.
Warburg, Aby. 1938. "A Lecture on Serpent Ritual." Journal of the Warburg Institute 2: 277–92.
Waters, Hannah. n.d. "The Enchanting Sea Monsters on Medieval Maps." Smithsonian. Accessed March 23, 2019. https://www.smithsonianmag.com/science-nature/the-enchanting-sea-monsters-on-medieval-maps-1805646/.
Welu, James A. 1975. "Vermeer: His Cartographic Sources." The Art Bulletin 57 (4): 529–47.
Wheelock, Arthur K. 2005. Vermeer. New York: H.N. Abrams.