Aesthetics of Access
Street and Community Art in New Delhi
Sanchita Khurana
Over the last decade, Delhi has witnessed a trend toward participatory forms of public art. In initiatives spanning graffiti, commissioned murals, urban art festivals, and community art, artists here are increasingly drawn to projects that are publicly sited and invite community interaction.
The growth of participatory public art in Delhi mirrors changing socio-economic conditions in the city. In recent years, city and state governments have begun sponsoring street art programs in an effort to promote cultural regeneration, a process through which urban revitalization is sought. This is based on the widespread belief in city policy where cultural activity is a harbinger of positive urban change, both socially and financially. Apropos of this, cultural institutions— including non-governmental organizations, private firms, art schools, non-profit art organizations, and transnational diplomatic institutions—have recently come together with governmental planning to fund cultural activity here, much of which results in collaborative artistic-cum-social experiments throughout the city.
A lot of the urban art being commissioned in Delhi addresses questions about "place" which activates, through form and location, narratives about participation and accessibility for citizens of the city. While these projects are often received with enthusiasm by residents, I find that they oftentimes contribute to neoliberal agendas of cultural regeneration that feed exclusionary policies aimed at creating a city by and for the middle classes.
---
There are two reasons why, and methods by which, local and state governments sponsor art in programs of cultural regeneration: on the one hand, by beautifying the city, art helps improve Delhi's perception ("image-making" through image-making, as I like to call it), and on the other, participatory art forms emphasize the democratic nature of the city by engaging local communities. The two are often interconnected.
In an attempt to shift focus to cities as sites of investment, the Indian government has recently begun to enroll street art organizations in city specific street art festivals. For example, in 2014 the city began to collaborate with St+Art India Foundation, an organization that generates participatory art projects in public space. Established in 2013 by a Delhi-based group comprised of street artist Hanif Kureshi, Roman curator Giulia Ambrogi, and media creatives Akshat Nauriyal, Thanish Thomas, and Arjun Bahl, St+Art India Foundation has grown from a self-funded street art initiative into a non-profit foundation that promotes urban art across multiple Indian cities.1 Based on the principle "Art for All," St+Art India Foundation aims "to make art accessible to a wider audience" by "taking art out of the conventional spaces such as museums and galleries, instead embedding it within the spaces we inhabit."2
St+Art India Foundation funds its projects with support from Indian city and state governments, international cultural institutions—including the Goethe Institut, Polish Institute, and Pro Helvetia—and through sponsorship from Asian Paints, an Indian multinational paint company headquartered in Mumbai. Since its inception, the foundation has organized 14 street art festivals and numerous public art projects in several Indian cities including Hyderabad, Mumbai, Delhi and Bangalore. Their largest intervention so far has been the conversion of decrepit or poor neighborhoods into official public art districts. The Lodhi Art District (Delhi), Maqtha Art District (Hyderabad), and Mahim Art District (Mumbai), are examples of three art districts that have come up in the last two years. Such interventions comprise a significant portion of state-led urban redevelopment schemes in areas that need attention and investment, and are not just commissioned by the central government and supported by the city government, but also find huge popularity with citizens and corporations alike.
In February and March 2019, St+Art India Foundation produced the Lodhi Art Festival, a six- week long street art program in the Lodhi Colony of Delhi. As part of the festival, the foundation produced a project titled Saath Saath (together) in which local residents were invited to participate in the painting of a geometric mural investigating themes of "togetherness." Before the festival began, members of the foundation surveyed the neighborhood in an attempt to generate local opinion on issues that matter to those that live there. Their goal, according to the foundation, was "to engage, and involve them in a two-way dialogue," by setting up a feedback mechanism using pamphlets and WhatsApp. The results indicated that residents "would like to have a participative community wall in their neighborhood" (2019). Recently completed this year, the wall is a solidified reminder of community participation.
The mural was produced during a series of workshops over a period of four weekends in which participants were trained in the techniques of wall-painting. Hinting at local social issues, words and phrases collected from the community—such as mahilaon ka sammaan (respect for women), bacchon ke liye suraksha (safety for children), ekta (unity)—were illustrated on top of the geometric background. However, many of the messages painted in the mural exclusively reflected the concerns of middle class residents. Moreover, various residents of the Lodhi Colony were disgruntled about having had their windows painted shut, on government orders, to facilitate these murals, with several expressing unhappiness regarding the permissions, methodologies and thematic choices that affected their "own home[s]." Participation for them meant being given a readymade platform where, ultimately, their voices were not taken into account.3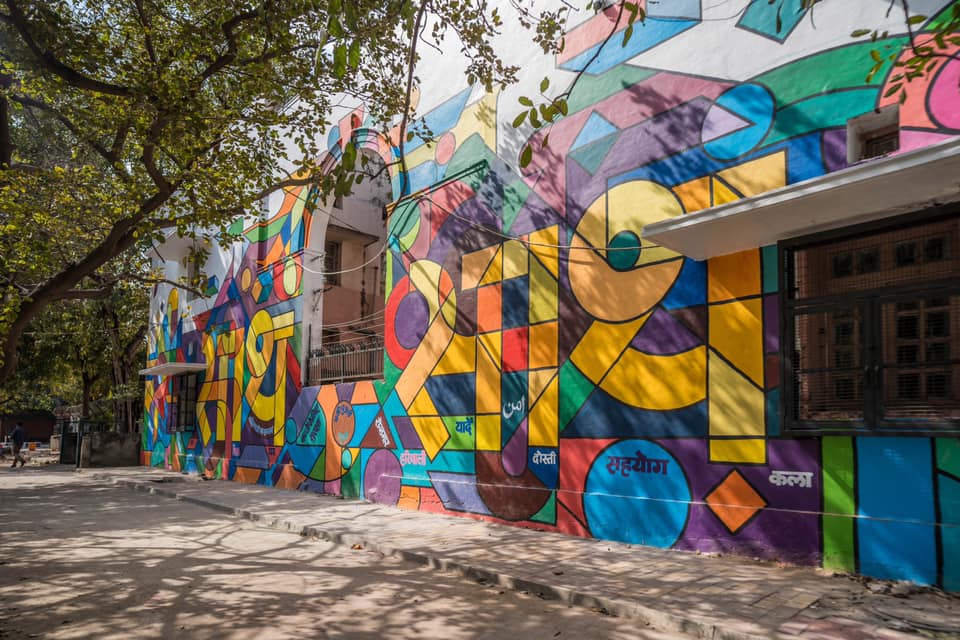 This form of community involvement reveals a top-down model of participation despite the project's employment of volunteers from various NGOs and kids from neighboring slum settlements. This recalls the idea of community that Miwon Kwon refers to in her important writing on the use of community in site-specific art. The discourse of participation that urban art often enlists has been critiqued by others too for its potential to exacerbate urban inequality.4 New York-based public artist and teacher, Doug Ashford, remembered for being a member of the now defunct collective Group Material, worked in various collaborative artistic projects across the city. For Ashford, one must be wary of what he calls "the dark side" of community-based projects, which stand to be reorganized "into a kind of measurable service economy that's based in social effect and urban development."5 One might also consider Grant Kester's critique of the artist as service provider (1995), always positioned from a higher to a lower cultural level. 6
Interestingly, a joint press release by St+Art India and the government, released two years before the community wall was made, speaks to an agenda of encouraging community participation, and refers more specifically to a "community wall" in the neighborhood. Such 'quick-and-easy' invocation of citizen participation suggests the instrumentalization of art for, both urban governance and the revitalization of public spaces. A "community" street art project, such as the wall being referred to, seems to be made in an artistic mode of production that is both teleological⁠ (that is, determined to move in the direction of a formally delimited artistic object, text, or event⁠) and assumptive of a kind of expressionist philosophy⁠ (that is, used to treating the work of art merely as a physical manifestation of the artist's vision). The community wall takes one back to Nicolas Bourriaud's conceptualization of the reification of social relations within the economy of the spectacle: "the social bond has turned into a standardized artifact." Such projects seem to be an oblique nod to the tourism and real estate industries, while facilitating the state's neoliberal agendas of privatization even as it claims its democratic legitimacy through the art form.7
There is a need to unpack the assumption of democratization inherent in the very idea of urban art, specifically as it is possible for such art to go unchallenged for its participation in the depoliticization of democracy, even in cities with a deep history of symbolic and physical violence against the poor and other marginalized communities. This may help one initiate a debate around what organizations like St+Art India Foundation reveal about making art in response to the community, and where that practice overlaps with citizenship, because both community and citizenship are multivalent and must be engaged locally. Despite the inclusive rhetoric of community and citizenship, there is often a gap between intention and execution. This gap may have to do with something as simple as the interests of the funding bodies, or as complex as a difference between the artists' and the community's perception of the role of aesthetics. Further, the very idea of participation in urban art must be examined for its potential to include without setting the terms for what inclusion looks like.
In a harsh critique of contemporary urban politics, Kester has called community-based art⁠— where a lot of local participation involves unpaid work⁠—a kind of "aesthetic evangelism." According to Kester, the prevailing logic of community-based art reproduces a reformist ideology that envisions personal inner transformation and growth as the key to the amelioration of social problems. The problematic around artists working in poor urban neighborhoods emerges from the possibility—however undesired—of exploitation and of the naturalization of social categories.8 While the artist-citizen exercises their citizenship by creating an art practice that claims to be democratizing and by fulfilling their "responsibility" (Pooja Sood's usage) of bringing forms of culture to the community, the "community" still remains the nature inspiring this culture.
Lodhi Colony may not be a poor neighborhood, but it is a government-subsidized housing colony for officials employed with the central government. It has been known for its symmetrical, modernist architecture. Not your typical residential colony that the middle class would aspire to settle into, it has long carried the image of a staid, boring neighborhood that people would live in only if they were assigned a house here by the government. Neither has it seen much real estate growth since its establishment in the 1940s, nor, owing to its status as government property, has it been possible to privatize the land.
However, what is interesting is that in the last few years, the central government of India has been proposing and rapidly carrying out large scale redevelopment projects, using a Private Public Partnership model, specifically for government-owned colonies and neighborhoods such as Lodhi. Activists and scholars in India have commented that this may be one indirect way for the neoliberal state to involve private players into the real estate speculation. Bringing participatory street art to neighborhoods such as these seems to serve a dual purpose: helping city authorities lift the image of the neighborhood via art but also by allowing private players to begin investment here in various ways, while strengthening and glorifying the participatory format of neoliberal urban governance that cities across India have adopted in various forms.
Thinkers like Chantal Mouffe, Slavoj Žižek and Alan Badiou have criticized the effects of global capitalism and neoliberalism in cities⁠—which led to their financialization as well as to newer ideas about a participatory citizen⁠—as the loss of "actual" politics from the city. According to their critiques, the focus on expert activation and consensus through public participation appears democratic, but actually leads to the dissolution of urgency with regard to matters that need politicization. They call this a post-political situation. For Agamben, on the other hand, inclusion is the form by which exclusion is perpetuated now.
The question of communities and their (self-) representation is, needless to say, central to any talk of citizen participation. Such questions become all the more complex in the case of a post-colonial space like Delhi, where urban segregation and inclusivity are often symbolic to deep-rooted structural inequalities. This generalization may be nuanced through a detailed research into the social, material, and cultural changes that are brought about by the interventions in these areas in order to gauge whether participation in artistic endeavors translates into renewed notions of citizenship or merely enacts and strengthens the nominal citizenship that many groups in Delhi have had to subscribe to.
One must attempt to comment not only on who benefits from public space in Delhi, but also on who the "subject" of it is while questioning what kinds of participations are involved in collaborative art practice in Delhi. Is it dignified work or does it replicate structural labor exploitation? Furthermore, when a mural is painted to reflect local reality in a neighborhood, or when the neighborhood acts as "inspiration" for an artwork, is there an exchange of "creativity" in this collaboration with the local community? For example, in a 2016 street art pop-up show by St+Art India titled "Work in Progress" in a post-industrial area called Tughlakabad in Delhi, local factory workers were enrolled to participate in creating art works for the exhibition. However, upon interrogation, it turned out that the laborers were part of the art work in only as much as they were asked to clean the containers on which the murals were to be painted, or to paint them black to prepare the base for the "real artists" to complete the artwork. What is highlighted here is a clear divide between intellectual and manual labor. In such a case then, participation and collaboration are terms that become riven with the politics of labor and which should not be taken at face value.
---
The collaborative work of art must reflect an understanding of local situations that has been gathered over a period of time. Temporality is of key significance in any art form that claims to be for the community.
Perhaps it is time to challenge populist narratives invoked by urban art as well as to demystify the benevolence associated with community art. Seeking out spaces of disorder within the neat art-historical categorization of urban art, those that allow for actual artistic agency of those usually not considered actors, is equally important. One can try to identify, within the complex dynamic of an individual's art practice, specific moments of rupture that seem to question the neoliberal logic and to overturn, if even briefly, social hierarchies that find synecdochical representation in specific areas of the city. Does urban art, for example, have any impact on gendered citizenship, especially for the female participant who most often finds herself prevented from safely navigating public spaces?
In her writing, artist Sreejata Roy points out that Delhi incorporates and assimilates "margins" while redefining the notions of what constitutes the urban; it also offers opportunities for personal freedom to working class women living in urban neighborhoods.9 It is in response to these negotiations between oppression and freedom that women have to make⁠—as a result of the complicated power dynamics that exist in the urban village of Khirkee (due to several migrant communities living together)⁠—that her art practice materializes. I am reminded of the first few murals that came up in the village, as a result of the Revue art collective's (comprised by Delhi-based artists Sreejata Roy and Mrityunjay Chatterjee) involvement with the girls of the locality. This was part of a project called "Networks and Neighborhood" (2014-2016), which was supported and funded by KHOJ in the localities of Khirkee Village, Khirkee Extension and Hauz Rani.
Using different modalities of interaction, Roy engaged with several groups of about 40-50 local women, between the ages of 18-30, four to five times per week for a period of one year. The aim was to understand the ways in which their public lives were constrained or facilitated by the city. The project focused on involving these women in public activity⁠ where they could generate new understandings of community through events such as cooking workshops, origami-making, and sometimes just conversation on how they would like to express themselves as part of the city. Over several such interactions, some girls expressed the desire to paint or inscribe the walls of the neighborhood depicting the reality of their lives. Around 10 girls worked with Roy to paint murals representing the presence of these in Khirkee⁠⁠—a simultaneous representation of women in public space and the striking lack of it.
One of the most famous murals is located right above a popular local tea stall. It depicts four girls sitting and having tea in the open. Another one depicts women of various ethnicities playing football with each other, and yet another shows them playing a game of cards. Even though these murals do not have titles, each of these have become landmarks in their own right. It is worth noting that these murals don't illustrate women doing "useful" or "productive" activities, but rather enjoying public space. In light of recent debates around the need for Indian women to take over public spaces just to loiter, the girls may as well be said to have been represented "loitering" in the mohalla (street).10
As a result of interaction, rootedness, and dialogue over a significant period, these murals broke important ground in the urban village and were widely discussed. They brought Roy critical recognition not just within the contemporary art world in Delhi but also within the non-governmental sector for her efforts of creating safer spaces for women in the city. Several men and women from the urban village reported that they felt encouraged to hang out around these murals, which also prompted them to think, for the very first time, about men and women sitting together and doing nothing in public.
These murals managed to have an impact by increasing the presence of women in that local area, without actually creating grand narratives around the site itself. By not relying on realism as a mode of representation, such art points to a larger idea of representation that need not be done in art but through it. In my view, it is the relationship between the reclamation of space and the emergence of an artistic process, not necessarily of an artwork, that creates an important artistic intervention. This kind of urban art may help rethink how the female subject must imagine herself navigating a multi-faceted city like Delhi.
It is clear that the local embeddedness in Roy's practice emerges from a particular understanding of the idea of collaboration. Such an understanding does not seek to follow a teleological drive, because of which it manages to escape the definition of art as emerging from an artistic center to the communal periphery. It assumes collaboration to be a project without a center and a process that is recursive rather than linear. That is probably why Roy's processual aesthetic can be said to aim at an open-endedness, both of intention and effect, that expands, rather than constricts, the possibilities and meanings of participation.
Art in the city has the potential to generate fresh perspectives for both artists and art scholars about not just urban art, but about art in general, especially when analyzed from the point of view of its reception. What effects do categories imported from a broader field such as art history have on localized experiences of understanding art, artists and culture, even if those effects exceed the categories of the urban and of art? Is it enough to simply introduce "Art" to the "masses" without investigating its material processes and implications? Is it not important to reach a set of decision-making protocols about participation?
Not only does one need to redefine participation, one also needs to minimize implicit hierarchies such as written versus oral, visual versus performative, and teleological versus recursive, that emerge out of different worldviews shaped by cultural position. St+Art India Foundation's practice of taking into account local viewpoints should be framed by an initial form of decision-making, such as writing a proposal for the redevelopment of the neighborhood. Oftentimes, the street art "avant-garde" artist takes the guise of the "nomadic provocateur who appears briefly at a given site, stages an 'intervention,' and then departs."11 The artist or organization then moves on to another such site to bring "art" there. In contrast to such cosmopolitan interventionism, Roy's artwork⁠—mired as it also eventually may be in the politics of place uplift⁠—seems to be more tethered to local realities.
Being aware that in Indian cities "democratic" urban politics result from neoliberal methods of governance through citizen participation, the urban artist might be able to self-reflexively situate herself better within the social layering in Indian cities. Aastha Chauhan, who was a pioneering community practitioner in Khirkee, but has now moved to Bangalore to teach, seems to understand the privilege that her work represented: "What do artists with privileges get when working in the neighbourhood? A lot of art practices are based on seeing the neighborhood as a problematic area and themselves as problem-solvers. We need to get rid of this God complex," she says.12