Grim Resolve: Renoir Sucks at Painting
Annie Julia Wyman, Max Geller
Renoir Sucks at Painting is an activist collective opposed to the public display of works attributed to Pierre-Auguste Renoir. Why? Because he sucks at painting. The following is a speculative history of the collective's activities to date.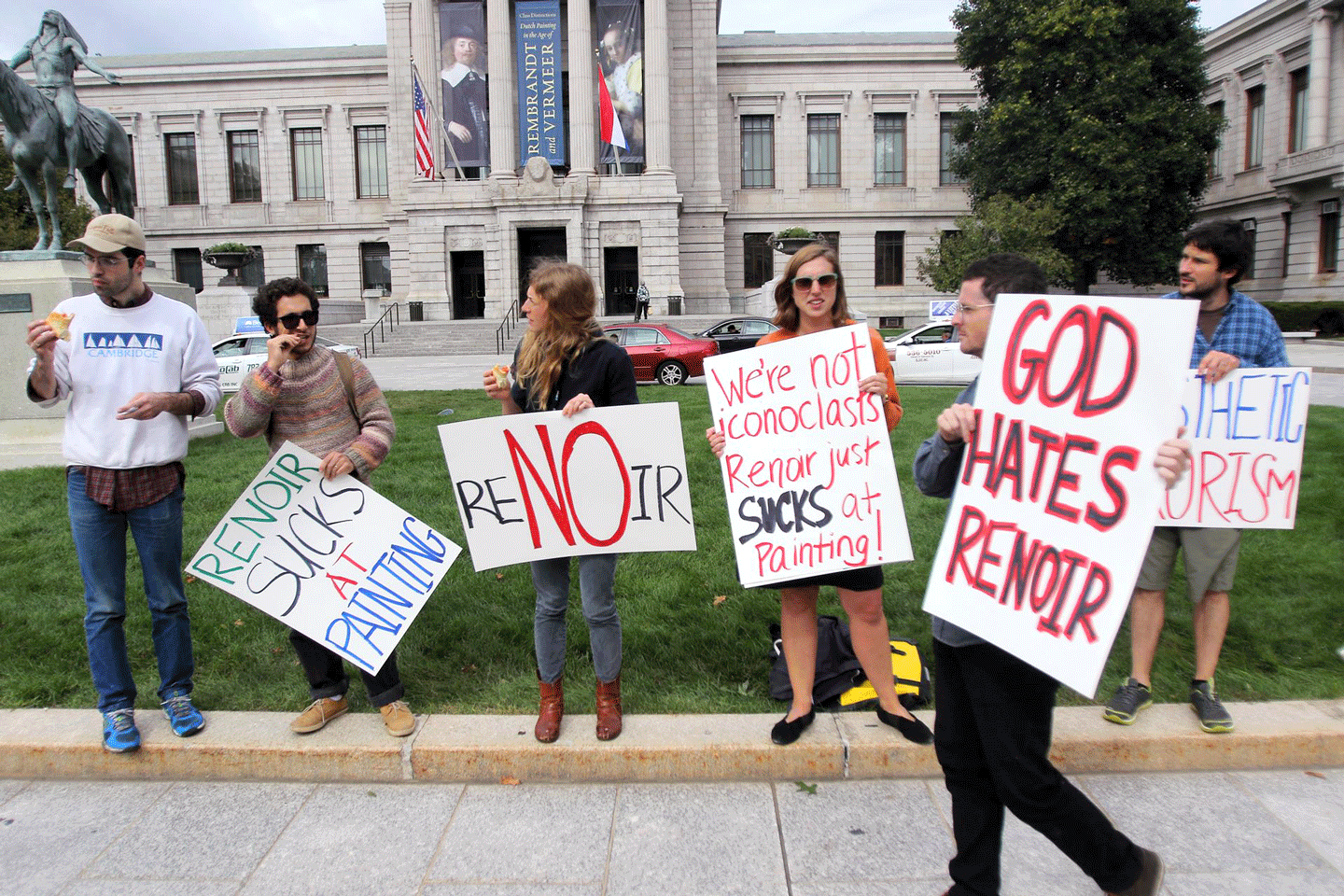 I.
On April 3, 2015, an urgent electronic missive burns its way through the internet toward wherever the President of the United States keeps his laptop. In fiery prose, littered with perfervid typos, the missive hints that its author, one "M.G.," is on the brink of a meltdown:
The #RenoirSucksAtPainting movement seeks to critically reassess the terrible oeuvre of Pierre Renoir [sic]. Through the process of de-hanging Reniors [sic] from our nation's museums, we work to reverse the deleterious effects Renoir's treacly, puerile paintings have had on our nation.
We call on Mr. Obama to issue a Presidental [sic] Proclamation denouncing Renoir for his saccharine scribbles in general, and, in particular, removing all Renoirs from our National museums.
Finally, any 'Fine' art worthy of its name, imparts on its viewer emotional force and inspiration. The time has come for we [sic], as a nation, with grim resolve, to recognize Renoir's utter failure in these regards. We call on the President to take proactive steps to correct the historical mistake and end Renoir's reign of aesthetic terror.
In October of 2015, North America watches with tepid interest when a protest at the Museum of Fine Arts, Boston, attracts seven people in solidarity with M.G. and the above demand.
Photographers appear, as photographers always appear. In addition to the signs they capture—God Hates Renoir, Aesthetic Terrorism, Rotting Vegetation—they find something strange. People are having fun and eating pizza, all while expressing a principled outrage. A rarely seen aspect of grassroots organizing begins to unfold—the protesters' righteousness emerges from, and feeds into, the rhythms of convivial life.
In the months that follow, a search for #RenoirSucksAtPainting reveals a group first dozens, then hundreds, then thousands strong. A movement had organized around a collective desire to de-hang the work of one of European painting's central figures.
Max Geller is, to his detractors, an uneducated, uncouth Mephistopheles on Adderall. To his compatriots, he is the walking embodiment of cultural justice, his bleating Boston accent reminiscent of the fiery rhetoric of Adams, Gerry, and Strong. On conservative talk radio, Geller passes himself off as a messiah of anti-elitism. On German talk radio, he makes good puns about Gustav Mahler.
Whatever you think about Geller, one thing is certain—he is unignorable.
"It's not yet 7:30 a.m.," the Huffington Post reports, "but Max Geller, leader of the Renoir Sucks At Painting movement, is already all riled up."
But what does this man, and the many thousands he claims to represent, actually want to say?
On October 10, 2015, Sebastian Smee of The Boston Globe, describes RSAP as sophomoric and silly.1 He appears to miss the point. RSAP is clear in its claim that treacly paintings exert a deleterious effect on viewers and that Renoir's whack, imperialist assumptions degrade his representational failures.
What could be sophomoric about that?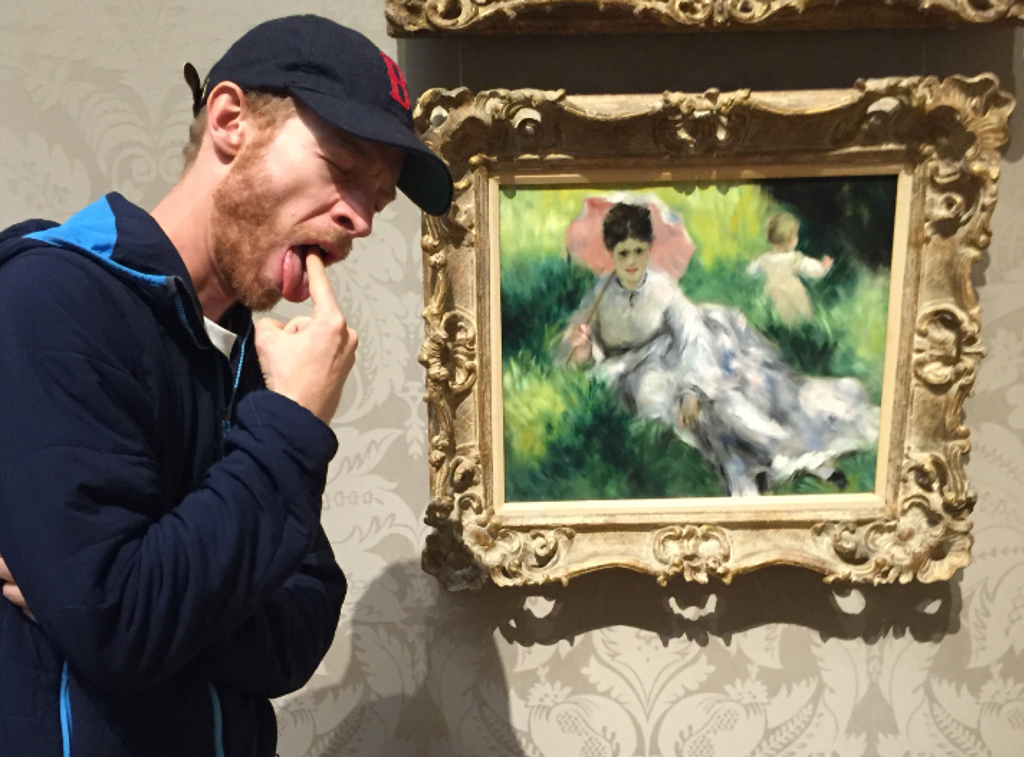 II.
In Winter of 2015, protests flourish outside museums in half a dozen cities across the United States.
Alongside these demonstrations, RSAP develops an idiosyncratic critical vocabulary. From #treacle to #steamingpile, #sharpieeyes, #rosacea, and #flipperhands, these terms map directly onto the compositional disharmony, muddy textures, and figural bungling of Renoir's aesthetic style.
RSAP's critical metalanguage amounts to a complex, fluid form of parody, pointing to the limitations of street protest, its populism, and the horn-rimmed boringness of cultural critique on the intellectual left. Hand-painted signs that read God Hates Renoir parody not only the Westboro Baptist Church but, the thundering, super-simplicity of protest itself.
"It's all for a joke, right? A spoof?" asks a news anchor on WGN, her pancake makeup crinkling into a rictus of well-intentioned bonhomie.
"No," replies Geller, "Renoir did really suck at painting."
In order to be novel, RSAP must be serious. In order to be effective, it must also be funny. The cranky sincerity of protest does not make one immune to appropriation, hijack, or neutralization, and the questions that Geller raises—"it's about who has access to our museums," he said on WGN—are too important for such folly.2
As of the time of writing, President Obama is yet to respond to Max's petition, submitted through the White House's We The People website in April, 2015.
As of the time of writing, Max has given more than 200 hundred interviews in the national and international press.
Despite President Obama's silence, the democratization of beauty is underway.
III.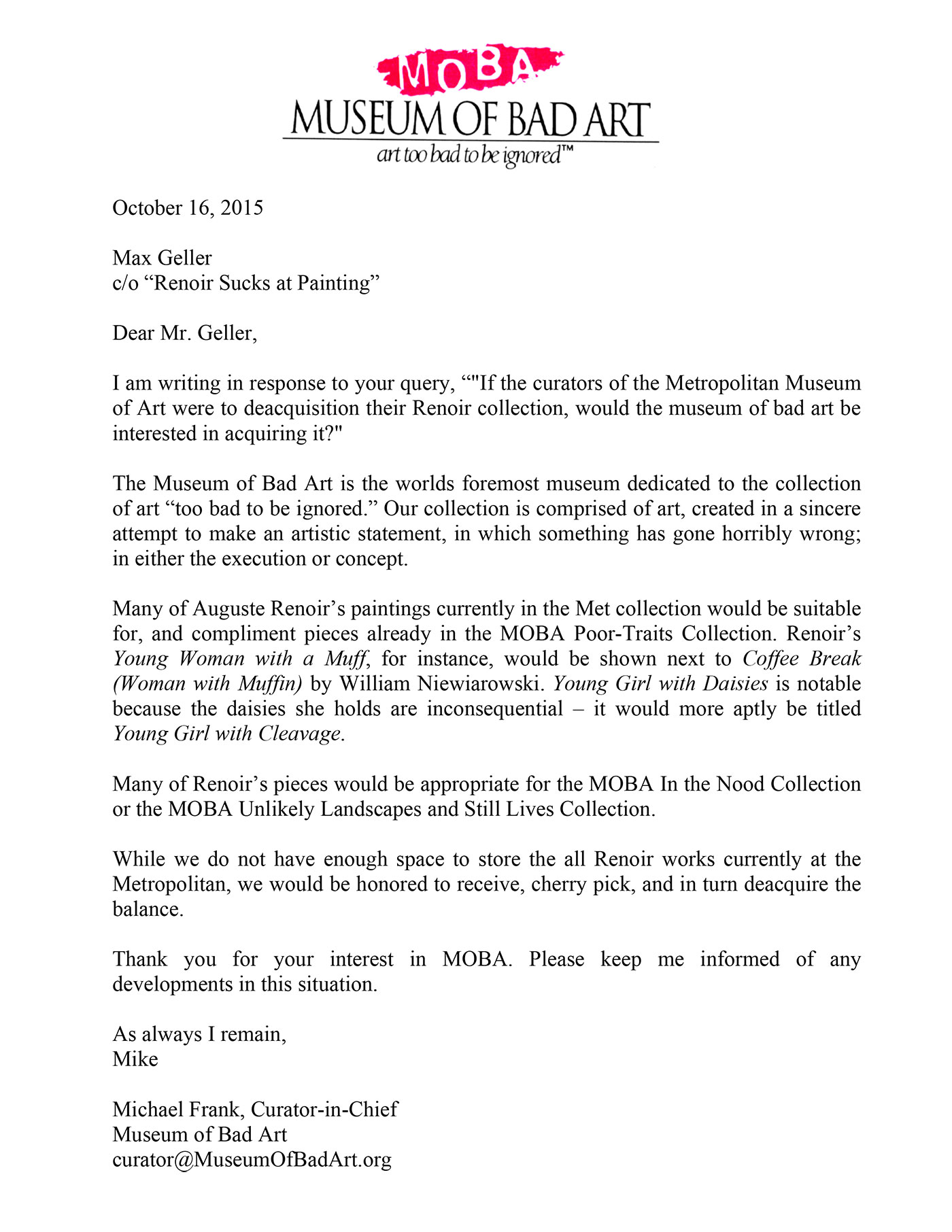 IV.
02.25.1841: Pierre-Auguste Renoir is born in Limoges, France. He first excels at singing, then at decorating tschotskes. When the tschotske factory mechanizes, Renoir takes up his third calling—"painting."

04.03.1876: Art critic Albert Wolff denounces Renoir as a peddler of putrefaction in Le Figaro: "Try to explain to M Renoir that a woman's torso is not a mass of decomposing flesh with green and purple spots that indicate the state of total putrefaction in a corpse!"

12.03.1919: Renoir's death.

01.08.1983: Max Geller is born in Boston, Massachusetts.

05.17.1990: Bal du moulin de la Galette is auctioned for US$78.1 million at Sotheby's, New York to Japanese collector Ryoei Saito.

04.13.2015: RSAP petitions the White House.

10.05.2015: RSAP protests the Museum of Fine Arts, Boston.

10.06.2015: Art critic Sebastian Smee, writing for The Boston Globe, declares RSAP "funny, but sophomoric."

10.08.2015: Brian Boucher of Artnet News describes Max Geller as a "professional protester" revealing that his other issues include the "oppression of Palestine by Israel" and "a maximum wage."

10.08.2015: The Huffington Post reports that Max Geller has challenged Sebastian Smee to a duel.

10.09.2015: RSAP protests the Norton Simon Museum, Pasadena, California.

10.09.2015: Milk declares "THE 'RENOIR SUCKS AT PAINTING' MOVEMENT IS ESCALATING QUICKLY."

10.17.2015: RSAP protests The Metropolitan Museum of Art, New York. Counter-protesters arrive. Artnet sends an on-site reporter who, allegedly, later describes Geller as a Nazi.

10.16.2015: Smithsonian Magazine asks: "Why Does the Internet Hate Renoir?"

10.21.2015: Max Geller appears on The Daily Beast to explain the difference between censorship and aesthetic democracy.

10.26.2015: RSAP protests the Art Institute of Chicago.

10.26.2015: RSAP appears on WGN. "Thank you," says Geller, "It's profoundly gratifying to be on such an intellectually rigorous news program."

10.28.2015: Die Frankfurter Aller Zeitung profiles the movement, quoting Geller's hope for an "orgiastic victory"—the complete removal of Renoir from public view.

11.07.2015: Forward covers media coverage of RSAP's protest at Art Institute of Chicago, as opposed to covering anti-Zionist protests held in Chicago over the same weekend. Josh Nathan-Kazis describes RSAP as "one-third a joke about applying the language of political protest to art criticism, one-third a gleeful slaughter of sacred cows and one-third a serious argument about how high culture is defined and policed."

11.09.2015: Salon suggests that "the core of RSAP's serious political critiques are Eurocentric aesthetics and beauty standards and the domination of art museums by white men."

11.13.2015: The Atlantic publishes a list of criticisms aimed at Renoir, beginning in 1874. The article misidentifies RSAP as a "strike."

12.15.2015: Student Rebecca Galin uploads a video project shot on an iPhone 5 to YouTube. #Rodinsucksatsculpting features a Geller-clone, however—the satire is flat. Geller, unfazed, leaves a long message on Rebecca Galin's parents' voicemail.

6.16.2016: Donald Trump announces his intention to run for the Presidency of the United State of America. Resulting media coverage reveals something strange about his penthouse apartment, giving credence to the slogan "RENOIR WAS AN INSIDE JOB."

6.16.2016: @cutehorsegirl: "The leader of our great nation cannot like art that looks like it was painted by a drunk bag of cotton candy."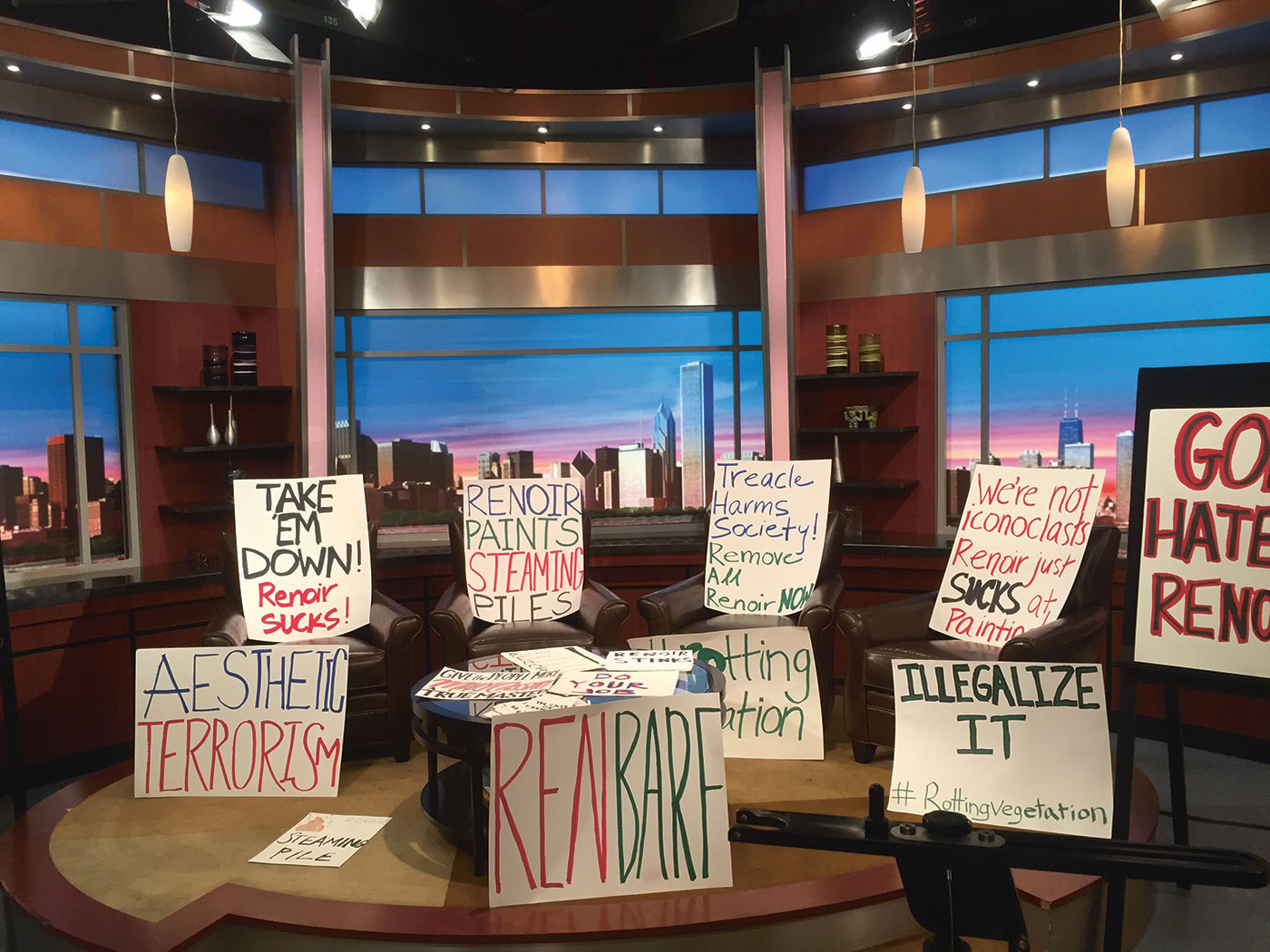 V.
In October of 2015, Bay Area resident, Genevieve Renoir—a lineal descendent of Pierre-Auguste Renoir—takes RSAP to battle, posting what is believed to be a well-intentioned series of links to the RSAP Instagram.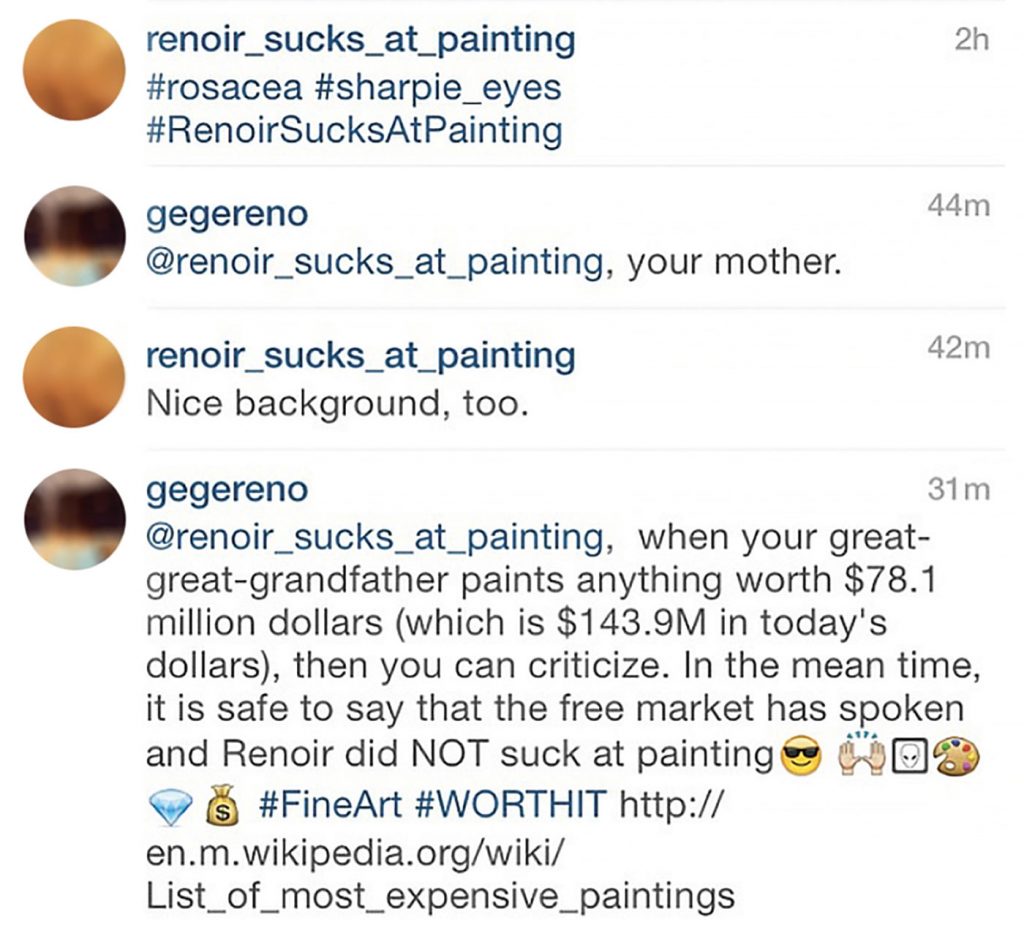 On a subsequent visit to California, RSAP member, R. Geller seeks to meet with Genevieve. She declines, and declines again, before pulling a real brat card.
As the story goes, Genevieve reached out to R. Geller because she was short a bartender for her birthday party. Ignoring the insult and accepting the invitation, R. Geller attended the occasion where he found dancing, heterosexuality, and the dead-eyed twirl and sparkle of precisely the kind her great-great-grandfather had endeavored to represent.
Late in the evening, upon leaving the party, R. Geller took a bottle from the bar...
VI.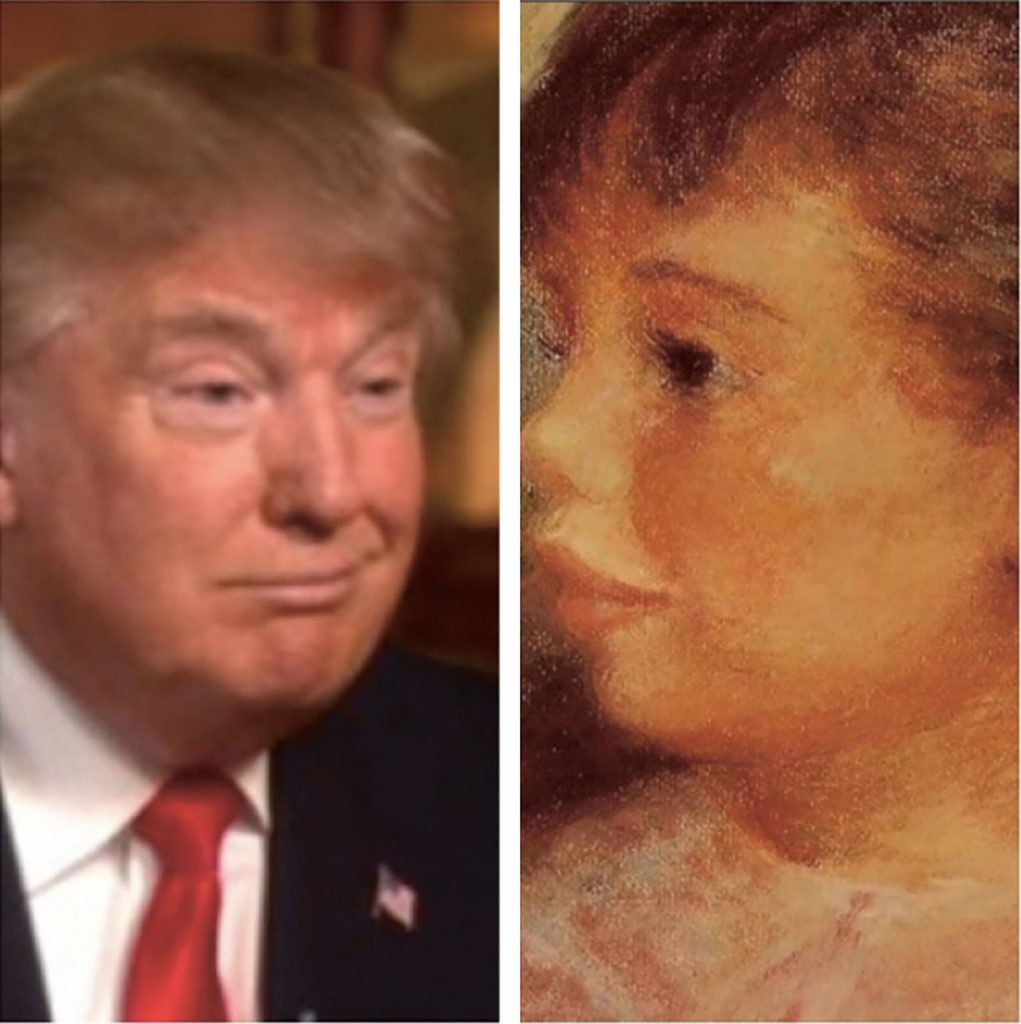 Look closely. Trust your eyes and not the arthritic art historical delimitations that make you wonder why a photograph is juxtaposed with a painting. Forget the ontological distinctions that tell you a human is not a cartoon. The beadiness of Trump's eyes, the candy-floss of his orange hair: he shares all of these with the bratty little girl. And, there are Renoirs in Trump's penthouse.
Though we've forgotten this again and again, Dewey held that an aesthetic education might also be an ethical education. Human empathy breeds beauty. Where there is no such empathy, golden towers rise and people of color are refused housing. Where there is no such empathy, curators from the Louvre write embarrassing emails in which they compare peaceful protest to censorship and RSAP to the tenets of Degenerate Art.3
By contrast, a trained eye knows that a meme encapsulates a culture and its ills better than sebum whipped up by a Frenchman on a sail.
Trump is the little girl, the little girl is Trump.
VII.
A caution against confusing Renoir with the devil.
The problem with Renoir, as Hannah Arendt might have agreed, is that he is banal. There was no fire in Pierre-Auguste, or whatever fire there might have been, extinguished early. As an Impressionist, Renoir tried to throw off the yoke of realism, but that didn't last. It seems that whatever Seurat was doing was just too hard for him—and so he quit.
Late in his career, Renoir abandons Impressionism and turns instead to painting women he wants to have sex with—flesh he "wants to pinch."
VIII.
In an article titled "Hating Renoir is Just a Phase", published in the New Yorker in October of 2015, Peter Schjeldahl notes that Renoir's role in the Impressionist movement was as a catalyst of "bourgeois cultural revolution." On the surface, such a claim appears reasonable, but fails to hold up once properly examined. How does a "bourgeois cultural revolution" furnish grounds to admire Renoir? Would, or could, a cultural revolution exalt complacency?
Schiller: "Life is serious, art is not."
Adorno: "Is art light hearted?"
Lightness, for Adorno, is an alibi. He locates the joy of art not in occasional respite, but in the fact that it persists, persists, and persists. Art's heroic task is to contain the suffering to which it bears witness. Art must not pretend that life is pretty.
For Adorno, an artist who never transgresses is not an artist at all. We might agree that, in this way, Renoir has nothing to do with art. It would make just as much sense to hang pages from a Brooks Brothers catalog on the walls of the Met. Those walls would be equally un-gazeable, though perhaps more innocent in that they conspire less to hide their insipidness.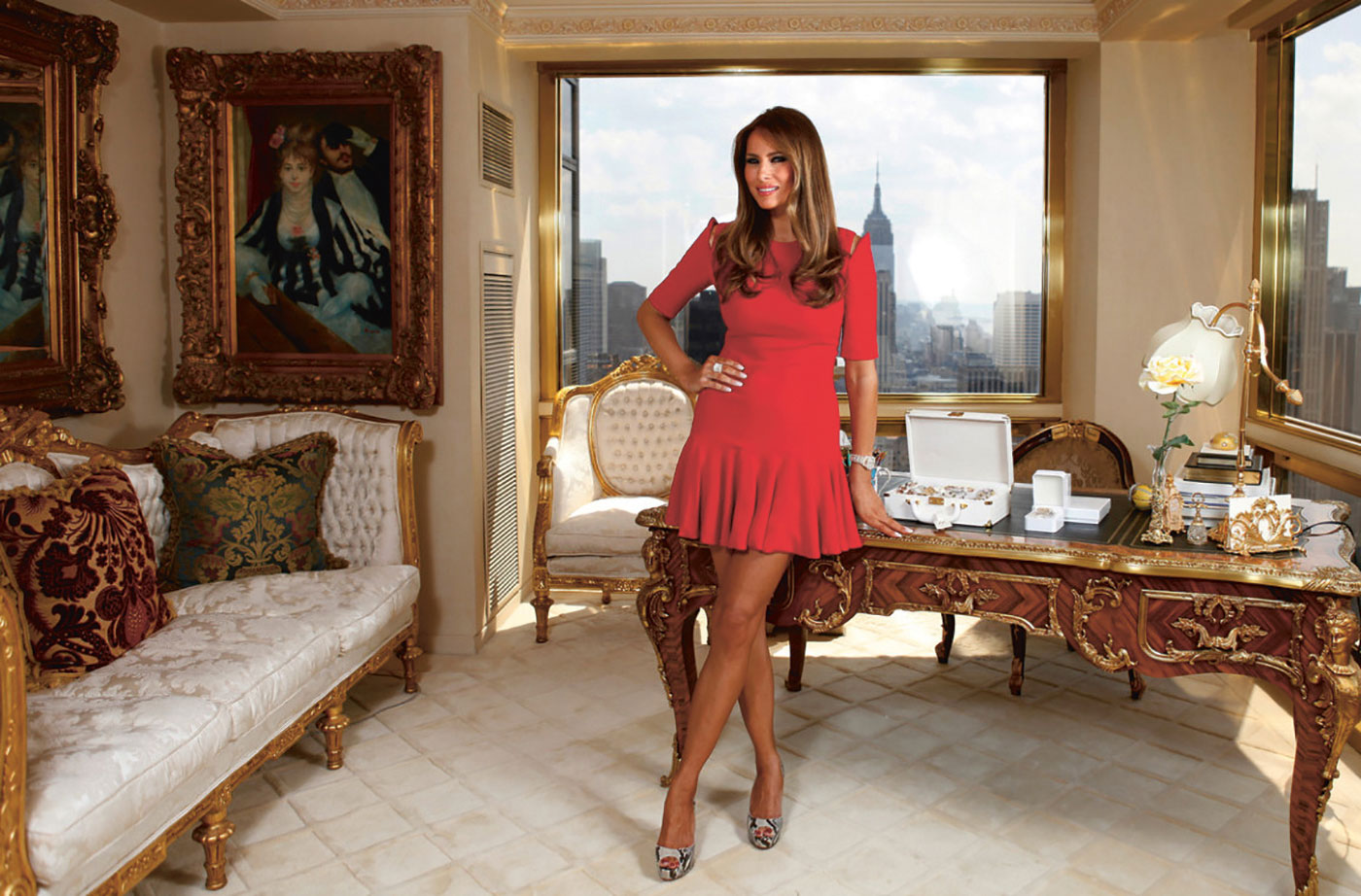 POSTSCRIPT
The era of Trump is enough to make any thoughtful person tear out their eyeballs in protest of the tragic fate of humankind. No greater loneliness could be possible. We all eat the same garbage and are numb.