Acoustic Sound Blanket
Baseera Khan



Can you hear me?

Are you there?
Under my blanket I hear lower frequencies, compressed sound waves.
I don't remember a day when I wasn't waiting to take shape, to have a shape that was legible and independent with meaning. My body relies on memorization. Without sight and barely any sound my feet are my memory. My memory steps one foot at a time. I listen, I learn, and commit no crime.
I'm going to take off my shoes…
It's my home.
I don't wear shoes in my home.
Do you?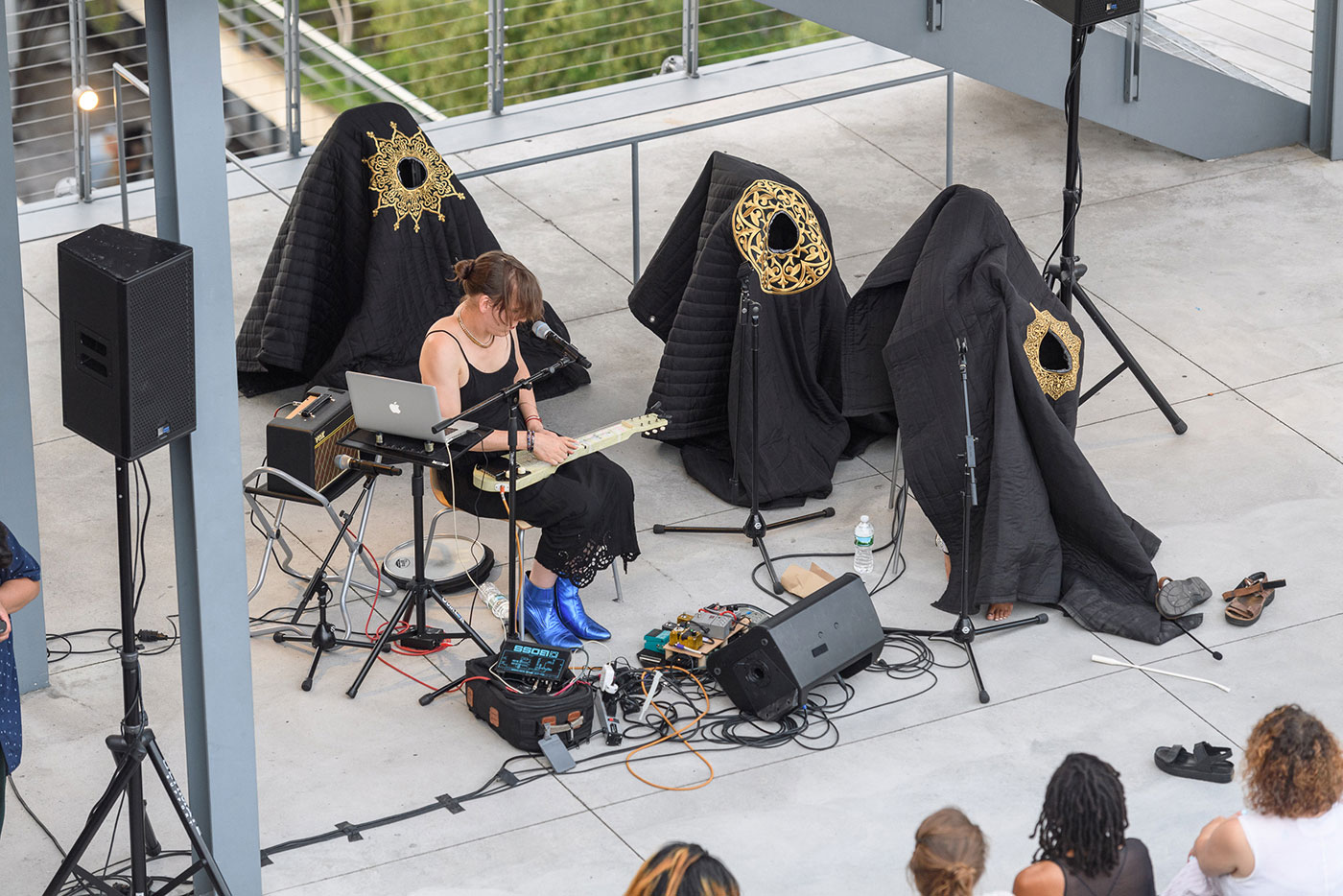 Do you feel anxious around me? Do I seem extra?
I learned it is crucial to invite others around me, but trust is something one builds.
It's not a free bee.


I'm alone. They don't know. How to deal with being watched in this force field.
Constantly surveilled.


I don't feel like singing. Turn that track off.
Get a little more acquainted with who you are. And then ask me where I'm from.


You see the way I like to work is. I'll do something for you, if you do something for me.


Sigh.


Exchange is so strange.


Instead I will talk with each and every one of you. It's hard to be me. I'm beautiful and brown and sometimes black. It depends on the year, on the city, on the attack.


I want to be the one that says if I'm ready.
Does anyone know what a dream machine is?
That sculpture you see with your eyes closed.


Float over time.


I can't see you. I can't even hear you, speak up.
You don't find me legible?


Caught between my black ornament that spins.
In a catatonic state.


I feel like taking my socks off now.
It's hot in here.


Ahhh. Nice and hairy. Sigh.


I'm willing to do anything just to get your attention.
Before I am deported.


Not having anyone see you see me, but I know you are watching.
Performance of Acoustic Sound Blanket by Baseera Khan at the Whitney Museum of American Art, July 21, 2017. Photographs by Filip Wolak. Special thanks to Participant Inc.